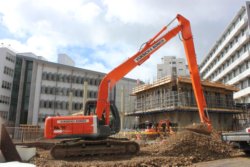 Vuksich & Borich (V&B) is a civil engineering company with a vision of providing quality results and comprehensive and dependable services in the areas of contracting and subcontracting.
Private ownership ensures V&B's clients get the personal attention, unhindered decision making and delivery of promises they expect.
This work ethic has endured in the company since it was established in 1959 by Ray Vuksich Senior and George Borich. At the time it was set up, V&B worked exclusively in the New Zealand market, building reputable relationships with private and public company clients, consultants and suppliers, some of whom still remain today.


Ray Vuksich Senior's values of integrity, honesty and excellent service are qualities that are still true to the company today.
Since 1994 V&B has remained a family business wholly owned by the Vuksich family. The integrity and tradition the company was built on is proudly continued by the Vuksich family shareholders. The company's Board of Directors today, include Ray's children - Raymond, Julie and Anthony.