Vuksich & Borich is a civil engineering company dedicated to providing comprehensive and dependable services in the areas of contracting and subcontracting.
Private ownership ensures our clients get the personal attention, unhindered decision making and delivery of promises they expect.
This work ethic has endured in the company since it was established in 1959 by Ray Vuksich Senior and George Borich. At the time it was set up, Vuksich & Borich worked exclusively in the New Zealand market, building reputable relationships with private and public company clients, consultants and suppliers, some of whom remain with the company today.
Ray Vuksich Senior's values of integrity, honesty and excellent service are qualities that are still true to the company today.
Since 1994 Vuksich & Borich has remained a family business wholly owned by the Vuksich family. The integrity and tradition the company was built on is proudly continued by the Vuksich family shareholders. The company's Board of Directors today includes Ray's children – Raymond, Julie and Anthony.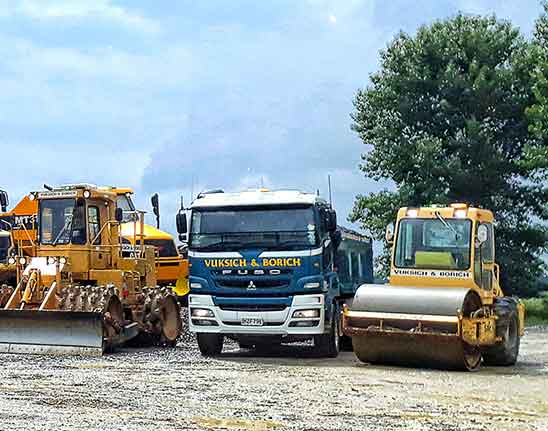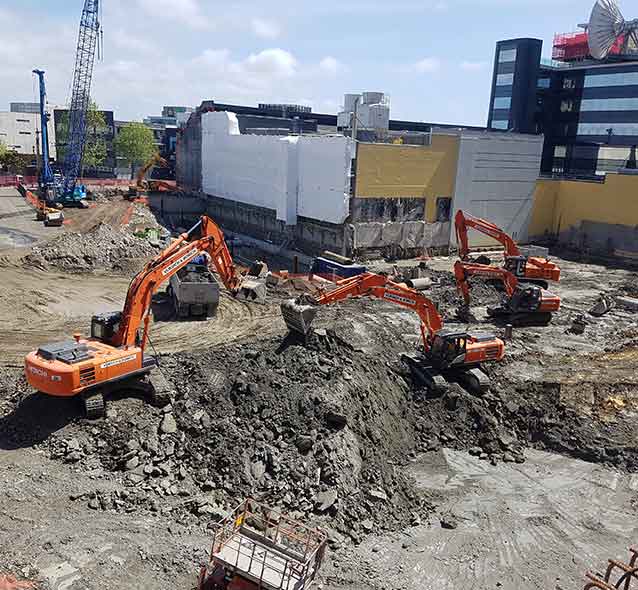 Vuksich & Borich has the capability to take on very large projects. We have invested in up-to-date plant and heavy machinery to complete major developments and ensure construction deadlines are met. Our experienced project management team know how to schedule work efficiently and deliver a quality result within the agreed budget.
We also invest in our people. Vuksich & Borich is constantly updating the skills of its workforce and proactively maintaining a strong Health & Safety culture. Professional systems have been put in place to minimise risks on busy construction sites while equipping employees with everything they need to get the job done.
Our track record speaks for itself, with many successful projects completed in the Auckland region as well as Australia, Fiji and Papua New Guinea. Whether you're developing a new subdivision, constructing a multi-storey tower, building a sports stadium or dredging a marina, Vuksich & Borich has the expertise to deliver results.
We've been doing it for over six decades.
"In just over 12 months you have worked alongside us at Glenfield and West City to create a new standard for shopping centres in New Zealand. Without you company's level of commitment to the project this would not have been possible." – View Full Testimonial
Todd Grounds
WESTFIELD PROPERTIES (NZ) LTD
"Vuksich and Borich is a family business, whose public relations with Government and local Funafuti communities have been superb. They have the professional skills, experience and capability to deliver our roading project on time and within budget." – View Full Testimonial
Filipo Taulima
DIRECTOR OF WORKS, GOVERNMENT OF TUVALU
"Thank you for your team's contribution to the success of New Lynn Rail Trench this year. The 'big dig' went without a hitch."
Engineering Project Manager – Malcolm McDonald
THE FLETCHER CONSTRUCTION COMPANY LTD
"The achievement has only been made possible by outstanding teamwork and commitment from all parties involved. Please convey our thanks and congratulations to all your team who have worked towards accomplishing this success." – View Full Testimonial
Michael Pearson
Mt Eden Prison Project Manager
"Thank you … for an exceptional year here at Eden Park. You guys have done a brilliant job."
Alan Gray
Eden Park Project Manager
"I have observed and seen tremendous cooperation amongst contractors and there staff on this site. Though weather conditions have at times been challenging the positive attitudes of all contractors and workers need congratulations for their very fine efforts."
Building Health and Safety Manager – Stuart West
THE FLETCHER CONSTRUCTION COMPANY LTD
"Vuksich and Borich have always taken an active role and participated fully with Health and Safety requirements on our sites, Health and Safety teamwork and commitment have played a major part in the successful completion on many of our projects. I always feel very confident when Vuksich & Borich are awarded a contract on our sites as I know that Health and Safety is a priority and will be managed to the highest possible standards."
Grant Wilson
FCC AUCKLAND HEALTH AND SAFETY MANAGER
"Vuksich and Borich prepared surface levels and finishes to extremely accurate tolerances for the synthetic athletic track and hockey turf" – View Full Testimonial
John Burnett
PROPERTY MANAGER KINGS COLLEGE